HELLO JOE!

If you're reading this, you've noticed that I've moved my blog from Blogspot to here on Tumblr. The problem was, that I was finding it hard to get motivated to write a blog on Blogspot because you get very little in terms of feedback and it's just one of those things where one day becomes a week, becomes a month etc. There's rarely a day goes by that I'm not doing something band-related so it's sometimes difficult to fit in and I'm often contacting people on Twitter, Facebook and the mail-outs so it's easy to forget about a blog. I guess it's the instant gratification of Twitter that make them so easy to just jump in and out of but I often reflect on the fact that if I was to put half the man-hours I spend shooting the shizzle on there on something constructive then I'd have something to show for my time. Ah well, I guess at least I don't play computer games any more. Anyway, here we are on Tumblr where sharing is easier and everything's a little more pretty and fun. In theory. It's going to be business as usual blog-wise, please send me questions and all that good stuff. But this is much easier, you can do it from here…

All that being said, my questions folder in my email is bulging so I'm gonna get through just a couple of these and make a new start this year. I'll try and do something much more often and hopefully a bit more activity and interaction will inspire me to do it. There's been some really interesting questions coming in about where we are with The Boom at the moment so I'll get into those after these that have been waiting for ages…

Kev asks… One of the worst bits about underground music is that they'll never be in guitar magazines or other spots where you can talk about actual gear and techniques, it does my head in. So, if you could talk me through some of the rigs in the band? I know Nick and Ben had crazy different styles and James seems to take a spacier approach, evidenced in the Midas stuff and his synth skillz, and the guitar tone on the newer records is completely different.

This is a really interesting question but a slightly difficult one to answer at the moment because it's very much undecided in terms of moving forward with the new material… maybe I should take you through that. In the past, we always had a very clear idea of arrangements and being able to play stuff live as a unit, starting with the bass, drums and vocals of the first couple of records. On "City Of Thieves" we knew everything we were playing and Nick and Ben knew exactly what each other were playing as guitar left and right and we could sit down and play the album 'live' and it would sound that way (the versions of the City Of Thieves tunes we did on The Punk Show session are testament to that…). That was very deliberate. With the new album we recorded it was totally differently… between the amount of stuff that went on it and the different way it was written, all those rules went out of the window. We literally demo'd and wrote the songs directly onto a free DAW called Reaper on a laptop and added and subtracted from there adding synths, loops, beats and all that much more like a dance or pop act. This was done because we wanted it to sound like that, but we also had so much happening live with the sequencers, it wouldn't have made sense to write without them. We would jam in a room once we had some ideas but the ideas would come from different places. James sits there on his own with all the instruments and writes pretty much alone once he's got an idea and then brings a finished piece of music for everyone to put stuff on. Nick brings in riffs and we jam them and me and Laila and everyone will try to turn them into songs. I will come in with anything from a riff to a pretty-much finished song so the way of writing became very much based around the central idea of the recording. The upshot of all this is that when we got into the studio to record it properly there was a lot of stuff where in terms of the bass and guitars we weren't even sure of who was supposed to be playing it. We kept a lot of the bass off the original demos and, for instance on bass, there is tons of stuff that I didn't play. There's metal bits on the album where I don't play the bass because I can't. What this has meant is that when we've come to have to approach playing the new album live, it's going to be very interesting. There is a huge amount of stuff on the album where I'm doing so much vocals that having me stood there playing bass is taking away from the performance. On the King Blues tour, I was playing bass on 'Kids' and then I decided to drop that because the song was dying. On the forth date of the tour or so, I switched to being away from the bass and suddenly the song came alive. So the new songs are going to have to go in that direction. But that's not the perfect compromise, because we're dropping a whole guitar that's part of the track. So the point of all this is that we don't know exactly what we're going to be doing once the new album comes around and we don't know how we're going to approach things… clear as mud.
In terms of the guitars, James and Nick are quite different players. James is very good with the more modern metal stuff and is fantastic with stuff he's made up himself with a herbal remedy and an evening in. Nick is more versatile and solid as a straight-up rock / pop guitarist and picks things up quicker and is easier to jam with. I'm guessing that, looking forward, even if we do have to bring a new bass player into the mix, Nick's still going to be the 'main' guitarist in that he plays on everything and James will hopefully be able to do some live synth work on stuff like, say, 'Bang! Bang! Bang! Bang!' to make the synths side of things more interesting and organic. Its cool the way that we've all been able to move in and out and between in terms of roles but at some point we're going to have to 'shit or get off the pot' as they say and maybe bring someone else into the fold as a live bass player or multi-instrumentalist.

In terms of the actual gear we're using, click the picture below and that answers that. I've posted it properly below on the Tumblr so you can get a better look. Apart from a few additions to Nick's arsenal like a new delay pedal, it's pretty much the same…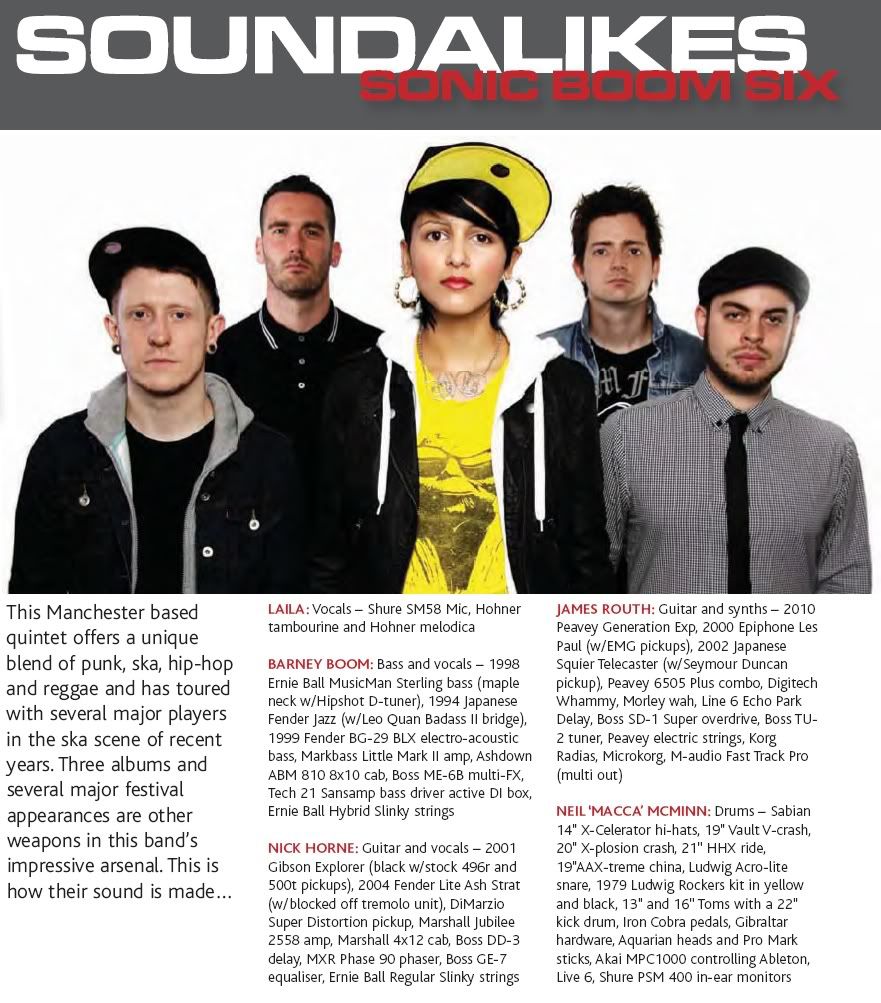 While we're at it, why bass? Do you have sausage fingers, think it's the cooler hip-hopier approach or just prefer a back seat?

I definitely didn't and don't have sausage fingers(!) There was a variety of reasons. Bass is very much my first instrument and I felt I was late in actually taking learning music seriously (I was about 16) so I felt that picking up bass was more achievable in terms of learning to be good more quickly. To be honest, it totally is. Any bass player that tells you otherwise is trying to defend the instrument, which is fine, because it is a rich and interesting instrument in lots of ways but it is easier to pick up and play at a basic level. My school mate Simon played guitar really well and Neil (as in Neil Macca who is still our drummer now) played the drums really well so I learned the bass, basically (argh!). My dad was a bass player and played bass for some decent names like Rufus Thomas back in the day and there was always an acoustic guitar in my house, so I was always familiar with instruments in general. But being a stubborn little sod I was always resistant to picking them up and taking lessons etc. When I eventually did, it was to help my mate Simon to play his GCSE music and accompanied him by playing 'Under The Bridge' by RCHP on bass, just as a favour to him and it was the first thing I learned. Inspired that I could play something by a band I liked, I dived head on in and decided I was a bass player and he, Neil and I were a band. And it went from there.

I think I liked the bass because I was so into rap-rock with bands like Rage Against The Machine, Fishbone and Primus who always had interesting bass stuff going on before I even realised it. And then there was the whole Cypress Hill, Dr Dre stuff I liked too which was all basslines so it just fitted with me right away. I've always listened to music with the question 'does it move my neck back and forward?' as something that was vital. And then as time went on and I got into ska and punk and hardcore and drum n bass, it became almost chicken and egg but I always liked the stuff that was bouncy, with what I would consider good rhythm sections, be it The Specials or The Smiths or Bob Marley or Green Day. I never had that 'two-guitarists with a bass player stuck at the back' like Oasis and Radiohead in my head because I always had that Led Zeppelin 3-piece plus vocalist archetype. The whole taking a back-seat thing wasn't a thought to me. In RHCP Flea was as cool and in your face as the guitarist, as was Timmy C in Rage and Geezer Butler in Black Sabbath and Eric Avery in Jane's Addiction. Even with the whole ska-punk thing, I was always drawn to the bouncy stuff like King Prawn and Suicide Machines over the chaotic brass-on-punk, say, Lightyear and MU330. When Big D and The Kids Table slowed down and did Strictly Rude I became a massive fan, I think that's because I'm pre-disposed to liking more groovy stuff rather than liking it because I'm a bass player. Maybe that's just how I hear things so maybe that's why I can play the bass and make up basslines. I dunno.

I guess sometimes wish I'd have learnt guitar or piano earlier, because I think my song-writing would be better in terms of chord progressions. Being a bass player, I kind of liked to write a bassline and shout on it and call it a song and didn't get the idea of chord movements and the like until much later and didn't really get totally on top of that aspect of song-writing until 'Ruff Guide' (even on our original SB6 demo some of the chord progressions are unconventional. Shit might be a better word). But what I will say for bass is that if you're wanting to write whole arrangements being the middle-person in the mix gives you an immersion into an arrangement where you are in a great place to know exactly what everyone is doing in a song, drums, guitars, vocals and all. That's why I think people like Charles Mingus and a lot of bass players make good band leaders. Being in a band, I've always written songs and found being behind the bass a very comfortable place to listen to what EVERYONE is doing when writing songs whereas, say, the drummer, has to concentrate on what they're doing. Cos the bass in SB6 is quite simple, it gives me time and space to check everything else out. Nowadays I definitely write more on the guitar or just in my head but I ultimately think of myself as a bass player. Even if I move onto more vocals and leave the bass behind in the future, I think I will still write on it and always jam with it. The bass is good.

Anyway, that was fun, sorry if it's a bit long-winded. I get on one and just break on through to the other side as Jim Morrison was so fond of saying. I've still got a ton of questions to answer but maybe if I can reblog silly pictures of girls on roller skates and cupcakes between blogs, I might be more drawn back to this page. I think I've already got more people following this than the other blog and I've imported all the old stuff so sonicboomsix.blogspot is dead. Long live sonicboomsix.tumblr!
Until The Sunlight Comes…

Barney x