Well, well, well.

We're on our way to Portland, Oregan in a big American car. The last few days have been cool, with shows with Big D and a few headline dates. Last night's gig in Seattle has the dubious honour of being the coldest gig that we've ever played in our life. Literally, if you imagine how cold a venue could be, double that in coldness, and you'd get somewhere near the sub-zero atmosphere of this club. In the bar area the draught pipes had frozen completely solid, leaving us to sip bottles of Heineken so cold that the flavour was all but a distant memory while shivering in a group huddle. I went on stage wearing a thick overcoat, a denim jacket, a shirt and a t-shirt and it wasn't until the 5th song I took the coat off. It was damn cold. But it was a wicked show.

Here you can see us, in the snow. Brrrr. Told you it was cold.
We're travelling around in a big Dodge car that has six seats and is nice and comfortable and fast and big and has all manner of adjustable fixtures and central locking and power supplies. However, they've dropped a bollock on one very important aspect of its design; it is absolutely impossible to consistently heat all the way through. There is no possible combination of dials, no technical arrangement of fan settings, no strategic deployment of levers that can make people in the front, middle and back comfortable at the same time. If Peter is perfectly cosy in the back, Paul's feet have icicles between the toes in the middle. If Jack is snugly room temperature at the front Jill is gasping like a dying Alsatian locked in a Fiesta on a summer's day in the back. So journeys are a constant, dialogue of back and forth requests to tweak this and slide that and 'the heats just kicked in over here' and 'I can't feel my legs.' It probably sounds like I'm moaning about nothing but the eight-thousand and seventeenth time you hear 'can you just reach over and…' you feel inclined to unlock the doors on the highway and dive into an anaesthetic embrace from the impact of an oncoming lorry. So, car manufacturers of the world take note, it's time to get this heat distribution thing tackled yeah. I can't live in these conditions.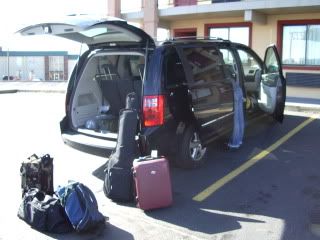 We've been staying in motels. Every room in every motel looks exactly the same, to the extent that it feels like you are coming home every day but some kindly soul has tidied your room, changed the towels, cleaned the shower and replenished your complementary coffee. I wish my house was a motel.
Because we've been eating such scandalous amounts of delicious American grub, we have, hilariously enough, decided to try and be pro-actively healthy. So if the motel has a swimming pool or fitness room, as most do, you'll be liable to find a motley crew of creaking, pasty Englishmen with what appears to be a Bengali orphan with a carrier bag on it's head wheezing, splashing and bellyflopping about. It may look pathetic, but please take pity on them. They mean no harm and are only attempting to exonerate themselves from the spicy pleasures they will succumb to an hour or two later.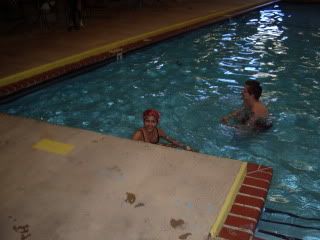 Speaking of spicy pleasures, Taco Bell had held us down for a few days but, on the last bite of my 8th 7 layer burrito, I felt something stir inside us all. Taco Bell is great for a few days but there's so much more out there... what of Taco Johns, Pollo Loco, Baja Fresh, Taco Time, Del Taco, even Taco Taco? It was finally time for us to spread our wings. So, we decided that a new dawn in the consumption of Mexican fast-food was upon us and we ventured into the welcome arms of a Taco John. On first impressions, the menu was less diverse but the smells emanating from the kitchen were spell-binding. Ordering was straight-forward and the food came in no time at all. The bean burrito was almost identical to Bell's offering but looking across the table, it was clear that food-quality here in John's was superior to Bell's, undoubtedly the most cheap-and-cheerful 'fast foody' Mexican option. Taco John's also offer the salsa bar - where a brother can take a little pot and fill it up with different salsas, guacamoles, jalapenos and spicy sauces – which was a revelation to tomato-parched mouths accustomed to the salsa-drought that is Taco Bell. To give the devil it's due, Taco Bell's more extensive menu means that a vegetarian's options in front of the counter are far wider than they are at John's and the prices are lower overall. And so, weighing it up with food-quality, value for money and salsa ratios, it's really horses for courses but personally I'd have to say that John's clearly superior ingredients and the relative novelty of finding one amongst Bell's near-monopoly gives John a win by the nose. We've been told that Baja Fresh is the best, and I'm looking forward to finding out if this is a fact, but we need to work up to it. I don't want to eat the best burrito of my life only to have to return to the affable slop of Bell's. It's best to take these things one step at a time. I'll keep you posted.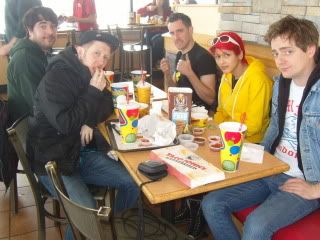 Yesterday we visited the house of Kurt Cobain in the attempt to do something suitably touristy while keeping our rock n roll image intact. It was pure shenanigans trying to find it and we had to ask a Mexican man who gave us directions. He was very softly spoken and in concluding his directions he stared off into the middle-distance with a wistful expression and said 'the house there on the end, man' which was a suitably enigmatic way to begin our pilgrimage. When we got to the house, we realised that we couldn't actually go in so we took some rubbish photos and concentrated on the benches by the side of the residency which had become something of a memorial, covered in graffiti and tributes and what-not. Unfortunately, we hadn't really found anywhere suitable to park and invoked the wrath of the local constabulary who shooed us away and said things like 'I don't know if you do that in your country, but not in America' as American police are inclined to do to us as often as they can.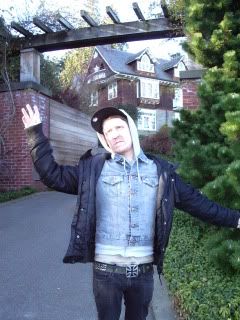 If proof is needed of this presumably fantastical-sounding adventure, one only needs to press play on the YouTube video below to see the shocking reality of the matter with one's own two eyes.
Right then, I think that's enough nonsense for now. I hope wherever you are you are at a reasonable temperature and full of whatever fast-food you enjoy.
Love you.
Barney x